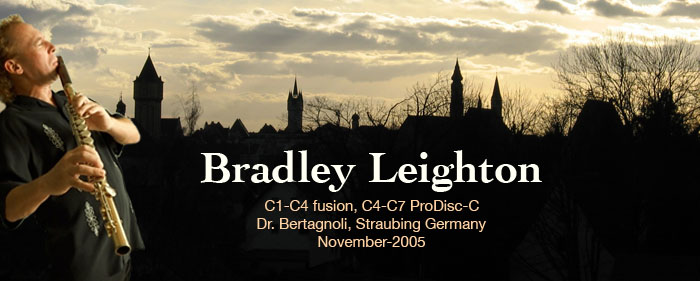 ---
---
From Bradley's GPN patient profile:
What makes the pain worse?
"Lying flat on back; looking up; reaching up; driving; any activity requiring arms to be lifted up
A Surgery That Should Not Be Done!
In November, 2005, at age 41, Bradley and his wife Donna traveled from Southern California to Straubing, Germany so Bradley could have a very unique, seemingly impossible surgery. Suffering from the effects of a 3-level laminectomy 17 years earlier, his upper cervical spine had collapsed into 'swan neck.' The discs in his lower cervical spine had become severely degenerated. The constant burning, pain and numbness in his shoulders arms and hands were making it impossible for him to continue his career as a professional jazz musician.
Bradley been to 1/2 a dozen leading spine specialists, both neuro and orthopedic surgeons and the news was not good. The surgical recommendation that he kept getting was for BOTH anterior and posterior surgeries:
| | |
| --- | --- |
| 1. | Anterior procedure with plate instrumentation and interbody fusion from C2-T1, including corpectomy C6. |
| 2. | Posterior procedure which would include segmental instrumeted stabilization from the occiput (C0) to T1. |
What would it mean to be fused from the skull all the way to the thoracic spine? It would mean that even a successful surgery leaves the patient with serious limitations. The angle of the head relative to the shoulders is fixed. Every movement of the head must also involve the shoulders. You can't duck your head to get in the car. You can't tip your head forward to sip from a full glass. You can't look up without bending back. You can't look down without bending forward. The angles are fixed in a position that is a compromise. What one angle works best for most activities? If the angle is fixed incorrectly, walking becomes diffiuclt as the only way to compensate for the angles is to change the orientation of your entire upper body.
Bradley was warned against the prodecure that Dr. Bertagnoli proposed. The odontoid plate fusion from C1 to C4 was not a procedure that could be done in the US. The idea of a 3-level ADR from C4 to C7 in conjunction with the fusion above was considered to be unreasonable. While Bradley and Donna were being frightened away from the overseas options, I was going to the doctors and getting details about what their reservations were. Over the span of many months with several spine conferences and several of my trips to Germany, I was getting answers for all of the real issues that were raised. (I guess this is the GPN version of shuttle diplomacy.) Without this, I don't think that Bradley and Donna would have had the information they needed to make an informed decision, nor the confidence to proceed against the warnings of all their local surgeons. Of all the work that I've done for so many spine patients through the years, what I was able to do for Bradley and Donna ranks among my proudest achievements.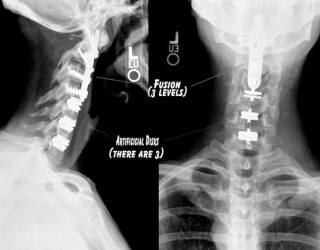 updated 6/15/08 Mark Mintzer
One of the things that is absolutely beautiful about this solution is that whatever the future brings, so many options are preserved. The option of posterior fusion if it is needed in the future is completely unhindered by what was done. This solution involves NO posterior surgery. If fusion from C0 to T1 is needed in the future, it can still be done. Many of the local surgeons had objected to the high risk of infection associated with oral access. Dr. Bertagnoli has perfected the procedure of implanting the odontoid plate all the way up to C1 without going through the mouth, but instead operating through a small incision lower in the neck. The special tools that he's invented in order to make this possible are engineering masterpieces.
After a very difficult surgical ordeal in Germany, Bradley and Donna returned to Southern California to begin what has been a wonderful recovery. He played his first gig in early January. On March 5th, he played his first full concert! By June, he was back to golf and tennis. What an amazing transformation!
---



Updated 6/15/08 Mark Mintzer

Catalina Jazz Club
Hollywood California, June 7, 2006

The last time I saw Bradley and Donna was in Straubing last December. They'd made it through their ordeal and were headed home a few short weeks after Bradley's surgery. I was excited to see them and especially pleased to see Bradley playing. He did play a concert (just a few songs) for the hospital staff in Germany, but I could see how difficult it was for him.

Seeing him last night... he looked great; so much different than before or just after his surgery. We talked about playing tennis together and he's golfing almost every day now!

Of all the surgeries I've seen, his was (and is) the most incredible... absolutely one of a kind. I believe that he's a walking miracle!
---
Grill and Jazz Club
Seal Beach, California, Nov 14, 2008

It had been a couple of years since I'd seen Bradley and Donna. I'd missed so many of his local events because of my trips with clients for their surgeries. I was so pleased that he was playing locally on Friday. Diane and I went early to make sure we'd get good seats. What a wonderful evening. It took me a while to quit marveling at how normal his movement was. He was able to jump around with a constant smile on his face!

Diane hadn't seen them since Germany. "It's great to see Bradley having a good time," she said.

We got to chat for quite a while. He's still golfing frequently and playing tennis. Next week, he's 3 years post-op. I don't think that any of us would have imagined this kind of success.

Updated 11/16/2008 Mark Mintzer


Bradley Leighton with Soul Collective

Anthology, San Diego, California - March 4, 2008

Video courtesy of Pacific Coast Jazz



---